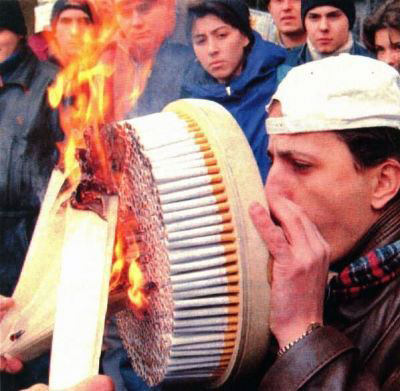 vs
We all know the facts and the arguments for both those in favor of and opposing cigarette smoking. This has been a heated topic for the entirety of our entire lives. In addition, we have noticed the recent legislation has banned smoking inside, and within 15 feet of doors by restaurants and the like. However, there is a strong push in places from
Lakewood, Colorado
to
New York City and Whales
to extend the outdoor ban in numerous and powerful ways. The following are the proposed measures for Lakewood:
No smoking on restaurant patios

25 feet of smoke-free clearance at doorways instead of 15 feet

No smoking protections in the "gathering places" of parks

Ban on new hooka bars, must be 18 to go in existing ones
In that same article, they cite another city, Greeley, that had enacted previous similar measures. What were the results? Their statistics show that heart attacks dropped 27 percent. Now as a CJS major, we all know we need to examine the study on that, to which i did not do for purposes of space in this article. Regardless of the percent and time, it did drop at some level, which is a good sign.
In the article mentioned above, New York City and the UK/Wales were examined. They cite that over 9500 children are admitted yearly due to second hand smoke in the UK, and that cigarette buds take roughly 12 years to biodegrade. In addition that same article, they estimate 4.5 trillion cigarettes are littered each year. And just from what I've seen, I don't believe that number is far off. And in New York, as of 2010, mayor Bloomberg helped push through legislation to eliminate smoking areas in large public places such as Central Park.
So, what's the conclusion? It may seem like such a biased blog so far, so let me at least mention some viewpoints from the smoker's perspective before i give my 2 cents, (if my thoughts are worth even that much =]). I talk to habitual smokers, as i work with and am friends with numerous of them at my job. Anyways, the "benefits" or "reasons" are some of the following. Now this list is not exhaustive i'm sure, just as the list of negatives wasn't either, but here they are:
It helps de-stress, or "wind down"

It gives me a break from .......

I don't want to live long anyways
Taking all that into consideration, what do I think? If you couldn't tell I am against smoking and for the extended ban. I do not look down at or judge those that do at all, but rather I just really wish that everybody could kick the bad habit that is destroying their health. I don't want anyone to get cancer or other sicknesses like emphysema, and I definitely do not want anyone to die young. I also do not feel that outdoor bans like these would be that difficult, because it is not eliminating it entirely, just extending the space away from people. Please share your thoughts on the blog here, and if you want you could even share your opinion on the poll from the source I have been referencing, which is here: