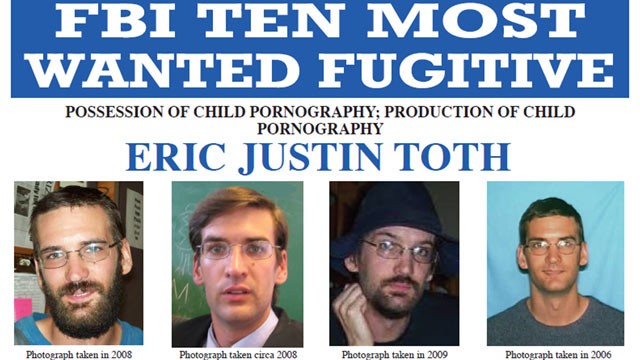 One of the most easily distinguishable law enforcement agencies in the United States is the Federal Bureau of Investigation. So when the F.B.I. announces a change to its top 10 most wanted list, we pay attention. Within the last few weeks, Eric Justin Toth replaced Osama bin Laden at the top of the list. This is an impressive feat considering what the former number one was accused of.
Toth is a former private school teacher and camp counselor who is suspected of possessing and producing child pornography. The allegations stem from a 2008 incident when pornographic pictures of children were found on Toth's camera. Soon after, warrants were issued for his arrest and he fled the Washington D.C. area. Authorities believe Toth also used the alias David Bussone.
The official charges against Toth were filed in a federal court in Washington. He was reported seen in Illinois, Indiana, Wisconsin, Arizona, and Minnesota. For those of you who are on the lookout for this monster, Toth is described as 6 foot 3 and 155 pounds. He has brown hair and green eyes. According to the F.B.I., a mole under his left eye is the most distinguishing mark about him.
What makes Toth especially dangerous is his skill with computers. He is well disciplined in technology and known to frequent social networking sites. This gives him access to children at all times and from anywhere. It is important that we all do what we can to make sure predators like this stay off the streets and behind bars where they belong.