As we wrap up the semester this blog has been a fun experience for me and I assume the rest my classmates.

I found it interesting to read all the varying posts from the wide spectrum that is criminal justice.

I saw something in the news recently that I would like to share.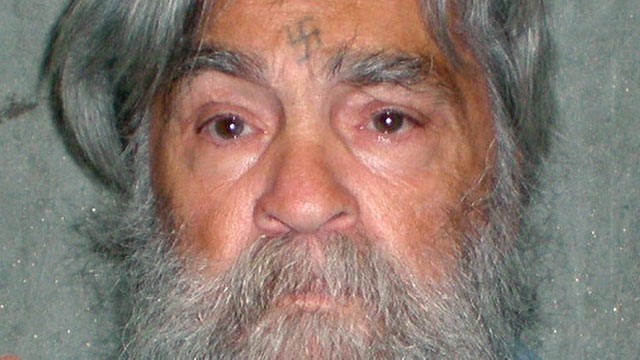 A few days ago on Wednesday, infamous killer Charles Manson was up for parole of his life sentence.

Manson, 77 years old, has been in prison since 1971 for the gruesome murders of nine individuals.

He is serving a life sentence and would have gotten the death penalty but at the time California had just abolished the death penalty in their state.

Needless to say his parole was denied, and he won't be up for another parole hearing for another 15 years in 2027.

This is Manson's 12

th

parole hearing and it is unlikely he will get many more as his age continues to increase.

Chances are he will die in prison, and in my opinion, rightfully so.

I say so because Manson himself didn't even show up to the parole hearing, and it's clear that he has not attempted to better himself in prison.

He has completed no vocational treatment or education program and since his time in prison he has accumulated over 100 infractions and serious disciplinary sanctions.
Now the whole debate that goes into situations like these is the obvious overcrowding issues in prison.

As we see a hike in crime trends specifically the get tough on crime or the war on drugs movement the influx of prisoners continues to climb.

I remember an earlier post and a discussion on when we should allow a prisoner of this nature to get out.

However to let someone back into society we need to be certain that they are no longer a danger to themselves or the population.

In my opinion I still think Manson is capable of murder and if he gets out I'd imagine he will kill again.

Manson was quoted saying, "I am special. I am not like the average inmate. I have put five people in the grave. I've been in prison most of my life. I'm a very dangerous man."

Obviously this is someone who is not fit for a return to society, but sadly the only option we have is to continue to pay for him to live in prison.

It's a very tough issue.
In prison, Manson has had a long history of manipulative and controlling behavior as well as a plethora of mental health issues including schizophrenia and paranoia.

He has also had a history of drug abuse including LSD and amphetamines, and has not once tried to better himself with treatment.

Clearly he has no remorse for what he did, and sadly it appears that he wants to die in prison.

Even sadder, as citizens and tax payers we are handcuffed and basically giving him what he wants.

Manson's state appointed attorney even said, "he knows he's not getting out, why else would you not attend your own parole hearing?"

Many parole board members and even psychologists are going to be happy to see the day when Manson doesn't bother their prisons anymore.
Its obvious that he doesn't deserve to get out of prison, not only because it appears that he doesn't want to and the fact that he hasn't made one effort to better himself, or made improvements.

Was denying him for the 12

th

time the right decision?

Yes, and it will be the right decision every ensuing time.
http://edition.cnn.com/2012/04/11/justice/california-charles-manson/