I do not know how many people have heard of brain fingerprinting but I think it is a pretty cool concept. I was introduced to the concept through a video we watched in a junior college criminal justice class. The inventor thinks it can be used to prove whether or not someone is guilty and could be used in court. I did not think this would ever happen but apparently it has once in an Iowa court in 2001. This is according to the brain fingerprinting website.
http://www.brainwavescience.com/Ruled%20Admissable.php
The concept of brain fingerprinting is actually a fairly simple one. A suspect is hooked up to a series of monitors that will enable the administrator to see the reactions in the brain and measure brainwaves. They then are flashed a series of words on a computer screen in front of them. They have to click a mouse in their hand when think the words are relative. This is just to keep them paying attention. The real test is in their subconscious reactions to the words flashing on the screen. Some of the words are just randomly selected words that have no meaning. Other words however have some direct relation to the crime or crime scene. A lot of the information for the words is taken from reports that were not published or are not common knowledge about the crime. The theory is that when a person sees a word that has something to do with the crime certain neurological things happen in the brain. These reactions can then be measured. If someone reacts to words that have to do with the crime but are not public knowledge the thought is that person had to be there when the crime was committed. The opposite could also be said. If a person does not react to things that the offender would certainly know then they may be innocent of the crime. This is why I say that this technology could be used as a very good investigative tool. I must say however I am shocked to have read this was ever admitted in a court.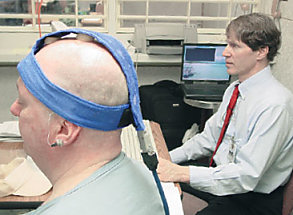 One of the main weaknesses of brain fingerprinting is in the ability of results to be replicated. The creator of brain fingerprinting, Lawrence A. Farwell, PhD; has a patent on the design and the equipment used to perform the test. He has refused to let other scientists perform the procedure and therefore has not allowed for credibility through replication. As anyone knows who has taken any research or science class, one of the fundamental principles of any scientific research or test is its ability to be replicated. I know one of the other drawbacks of brain fingerprinting was that the test was a very lengthy one. It was given to one inmate who was on death row trying to prove his innocence. The testing process of this one man took three days. There are obviously some issues that need to looked at and overcome but I think that the idea behind it is sound. I am all for any type of advancement in science that can help with the investigation of crime. It reminds me of a polygraph and I'm sure some of the criticism it faced at first. As with any new technology there are always kinks that have to be worked out at the beginning. I think it is an exciting possibility though. You may be a good enough liar to fool the police, and you may even be able to beat a polygraph, but one thing e know for sure is you cannot control your subconscious. The possibility of being able to know for fact the guilt of a person would do great things for the system.
http://www.brainwavescience.com/