http://www.huffingtonpost.com/2012/02/07/josh-powell-voicemail-_n_1259867.html?1328631396&icid=maing-grid7%7Chp-desktop%7Cdl1%7Csec1_lnk3%26pLid%3D133459#s669977&title=Chuck_Cox_With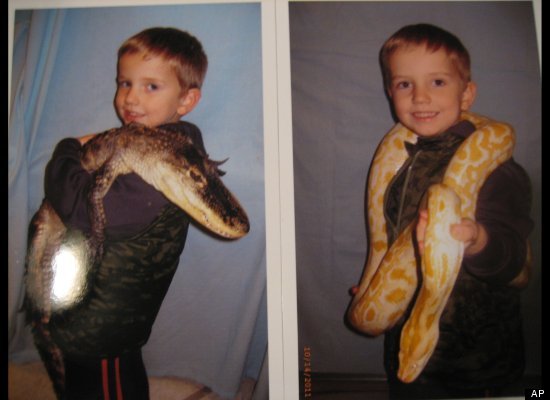 Here is a story of a father, if he even has the privilege of being called that, who deliberately killed his two sons (Charles-7 and Braden-5) before committing suicide seconds later. Before committing the homicides and suicide, Josh Powell (the father) called and left a voicemail to some relatives stating,
"I am not able to live without my sons, and I'm not able to go on anymore. I'm sorry to everyone I've hurt. Goodbye." The real catcher is the way Powell went about the murdering of his two boys. During his visit with his boys, (who were under the custody of their grandparents, Powell's wife's parents, due to Powell being caught with child pornography in the home) Powell locked them in the house to hide them from the social worker and took a hatchet to both boys, leaving them in agonizing pain on the floor before setting the house to fire, which ended both their lives, due to inhalation of smoke, which also caused his own death. As for Powell's wife, Susan Powell, she had gone missing years ago, yet to be found; Powell being one of the main suspects in her disappearance.
The part of this story that really dumbfounds me is the fact that just because the police and detectives did not have enough evidence against Powell being the main culprit in his wife's disappearance, they could not arrest Powell, knowing he was more than likely the main reason due to her absence. Powell was also caught with child pornography in his home. The fact that they could not arrest him led to his capability of murdering his two innocent young children. Where should the judge cross the line here? Why was Powell even given supervised visits after all that was against him? Who is to blame? Critics and reviewers of this story are blaming our system for allowing such a man the right to be around his children. Of course, in the end, it is no one's fault but Powell's, but with all the suspicions held against him, what could our system do about this? Even though there was not enough evidence against him, would it be ethical for the judge to totally and completely cut all ties with the father and his children, especially when the judge knew about this man and the way he was? I know there are many sick people out there, many people who do wicked things, but where do we draw the line in blaming our system for being responsible for these individual's actions?